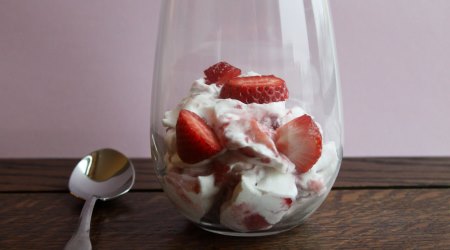 This dessert is also known as "Strawberry Fool", and can alternately be made with raspberries or blueberries with equally delicious results. It's light, airy, and perfect on a warm day after a heavy meal. This recipe comes from Family Circle magazine.
Ingredients:
1  cup vanilla Greek yogurt
1 (10 oz.) package frozen strawberries, thawed
1/3 cup confectioners' sugar
1/4 cup well-chilled heavy whipping cream
4 ladyfinger cookies, for serving
Directions:
Puree half the strawberries in a food processor until smooth.
Using a fine mesh strainer, strain into a large bowl, pressing the liquid out with a rubber spatula. Discard seeds.
Whisk in confectioners' sugar.
Stir in the remaining strawberries.
In a chilled small bowl, using a metal whisk, whip the cream until stiff peaks are formed.
Gently fold in yogurt.
Fold in strawberry mixture.
Spoon into glasses and chill, covered, for at least 1 hour.
Top with more berries, whip cream, and ladyfinger cookies, if ya like.

Related Recipes