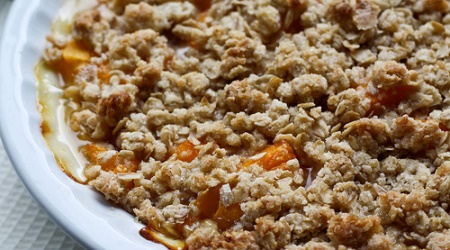 I brought this to a dinner party and it was a big hit. Served warm with vanilla ice cream, it was devoured by adults and kids alike!
Ingredients:
1.5 lbs. fresh apricots, roughly chopped
1 Tablespoon granulated sugar
1/2 teaspoon almond extract
4 Tablespoons butter
1/3 cup brown sugar
1/2 cup oats
1/2 cup whole wheat flour
4 Tablespoons sliced almonds
Pinch of salt
1 teaspoon cinnamon
Directions:
Preheat oven to 400 degrees F.
Toss apricots with granulated sugar and almond extract. Pour into a baking dish covered with cooking spray and let rest for 15-25 minutes while the oven preheats.
In a microwave safe bowl, melt butter.
Stir in brown sugar.
Add oats and stir together.
Next add flour.
Finally stir in almonds, salt, and cinnamon.
Spread this out on top of the apricots.
Bake, uncovered, 30 minutes or until top becomes golden brown.

Related Recipes