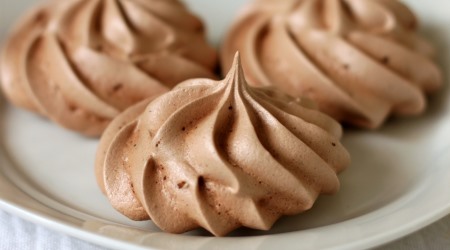 These little bites of heaven are crispy on the outside with a center that's a chewy, chocolaty treat. They are also low fat and low calorie so go crazy! Thanks to relish.com for the recipe.
Ingredients:
3 oz. bittersweet chocolate, cut into chunks
2/3 cup powdered sugar
3 Tablespoons unsweetened cocoa powder
3 egg whites, room temperature
1/2 teaspoon fresh lemon juice
1/4 teaspoon salt
1/2 cup granulated sugar
Directions:
Pre heat oven to 200 F.
Line 2 cookie sheets with parchment paper.
Place chocolate in a food processor and pulse until finely ground.
Sift together powdered sugar and cocoa in a medium bowl.
Place egg whites, lemon juice and salt in the bowl of a mixer fitted with a whisk and beat until foamy.
With mixer running, add granulated sugar, 1 Tablespoon at a time.
Increase speed to high and beat until stiff peaks form.
Fold powdered sugar mixture and chocolate into egg whites until well combined.
Spoon batter into a disposable pastry bag fitted with a large star tip and pipe 1 Tablespoon portions of batter on prepared cookie sheets, spacing 1-inch apart. (Or use a spoon to mound batter on pans.)
Bake 1 hour.
Turn oven off and leave in oven at least 1 hour.
Store in an airtight container up to 3 days or freeze up to 3 months.

Related Recipes