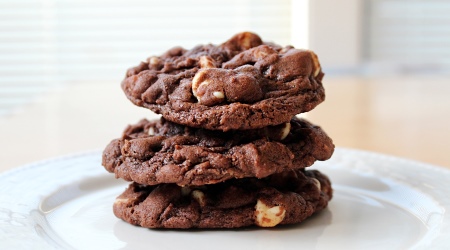 These are a nice change from regular chocolate chip cookies. I took a batch to a recent tee ball game and they disappeared in minutes. I found the recipe on verybestbaking.com.
Ingredients:
2 1/4 cups all-purpose flour
2/3 cup baking cocoa
1 teaspoon baking soda
1/4 teaspoon salt
1 cup (2 sticks) butter, softened
3/4 cup granulated sugar
2/3 cup packed brown sugar
1 teaspoon vanilla extract
2 eggs
2 cups (12-oz. pkg.) White Chocolate Chips
Directions:
Pre Heat oven to 350 degrees F.
Combine flour, cocoa, baking soda and salt in small bowl.
Beat butter, granulated sugar, brown sugar and vanilla extract in large mixer bowl until creamy.
Add eggs, one at a time, beating well after each addition.
Gradually beat in flour mixture.
Stir in morsels.
Drop by well-rounded teaspoon onto un-greased baking sheets.
Bake 9 to 11 minutes or until centers are set.
Cool on baking sheets for 2 minutes.
Remove to wire racks to cool completely.

Related Recipes