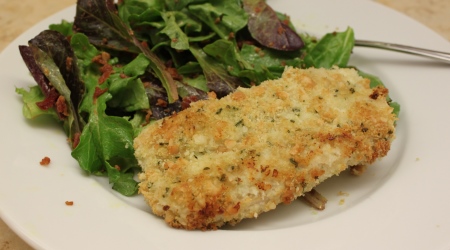 This is a quick recipe for just about any white fish. But I gotta say, I love the combo of macadamia nuts and cilantro with the mahi. Serve this along side a mixed greens salad tossed with bacon bits and honey mustard dressing. The flavors will amaze you! Yet another keeper recipe from weightwatchers.com.
Ingredients:
4 Tablespoons dry roasted salted macadamia nuts, chopped
1/4 cup Panko breadcrumbs
2 Tablespoons fresh cilantro, minced
3/4 teaspoons Kosher salt, divided
1 lb. mahi mahi fillets, without skin
1 large egg white, whipped to soft peaks
Directions:
Pre heat oven to 450 degrees F.
Coat a baking pan with cooking spray and place pan in oven to pre heat.
Place macadamia  nuts, Panko, cilantro and 1/4 teaspoon salt in a mini chopper and process until combined.
Pour crumbs into a shallow bowl or plate.
Place fish on a separate plate and rub 1/2 teaspoon salt all over fish.
Dip fish into egg white, turning to coat.
Next, dip fish into nut mixture, turning to coat.
Remove pan from oven and place fish on pan.
Roast until center of fish is no longer translucent, about 10 to 12 minutes.
Serve immediately.

Related Recipes