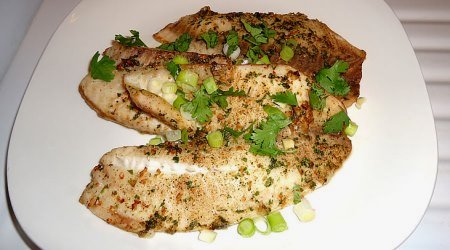 Thanks to Pintrest, I stumbled onto this recipe on thekitchn.com. It's a nice fish dish, but you gotta really love ginger and cilantro to love this recipe. The flavors are bold and strong. Serve over brown rice or couscous to soak up all that flavor!
Ingredients:
1 lb. tilapia fillets
Kosher salt and freshly ground pepper, to taste
3 fresh garlic cloves, peeled and smashed
1 inch fresh ginger, grated (about 1 Tablespoon)
1 jalapeno pepper, seeded and roughly chopped
1/3 cup fresh cilantro leaves, roughly chopped
1/4 cup white wine
2 Tablespoons soy sauce
1 teaspoon sesame oil
Scallions and extra cilantro, chopped for garnish
Directions:
Pre heat oven to 475 degrees F.
Pat fish dry, season lightly with salt and pepper, and lay in a 9×9-inch glass baking dish.
Put garlic, grated ginger, chopped jalapeno, and cilantro in a small food processor with the white wine, soy sauce, and sesame oil. Whir until blended.
Pour sauce over the fish, rubbing it in a little.
Bake for 8 to 10 minutes, or until the fish flakes easily and is cooked through. (It will be very moist still).
Serve immediately, garnished with the additional scallions and cilantro if ya like!

Related Recipes