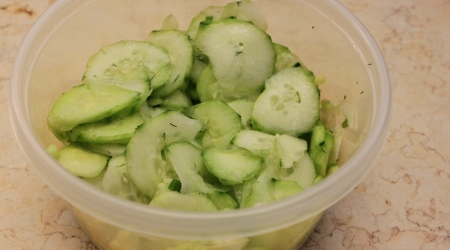 No other recipe can conjure up more memories for me than this simple German cucumber salad, or Gurkensalat, as I grew up calling it. It is literally the smell and taste of my childhood. My Grandma Hirvo made this almost every time we saw her, which was weekly. We ate it with everything–chicken, pizza, soup, sandwiches, steak, pork chops, fish… Literally anything goes with this fresh, crisp, tangy salad.
Ingredients:
2 large fresh cucumbers, peeled and very thinly sliced
1/2 cup white wine vinegar
2 Tablespoons extra virgin olive oil
1 Tablespoons fresh chives, chopped
1 Tablespoon fresh dill, chopped
Garlic salt and freshly ground black pepper, to taste
Directions:
In a bowl, whisk together vinegar and oil.
Mix in cucumbers and remaining ingredients.
Cover and chill 1 hour before serving.

Related Recipes