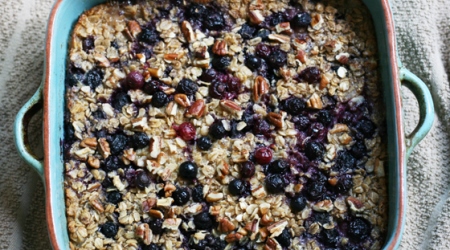 Here's a fruity version of baked oatmeal that will have you singing in the morning. It's that good! And that good for you–loaded with fresh fruit, nuts, and oats it will keep you going all day. The recipe comes from skinnytaste.com.
Ingredients:
2 medium ripe bananas, (the riper the better) sliced into 1/2-inch pieces
1 1/2 cups fresh blueberries
1/4 cup honey
1 cup uncooked quick oats
1/4 cup chopped pecans
1/2 teaspoon baking powder
3/4 teaspoon cinnamon
pinch of salt
1 cup milk
1 egg
1 teaspoon pure vanilla extract
Directions:
Pre heat oven to 375 degrees F.
Spray an 8 x 8-inch glass baking dish with cooking spray and set aside.
Arrange  banana slices in a single layer on the bottom of the dish.
Sprinkle half of the blueberries over the bananas, 1/4 tsp of the cinnamon, 1 tbsp of the honey and cover with foil.
Bake 15 minutes, until the bananas get soft.
Meanwhile, in a medium bowl, combine oats, half the nuts, baking powder, remaining cinnamon, and salt.
Stir together.
In a separate bowl, whisk together honey, milk, egg, and vanilla extract.
Remove bananas from oven, and remove foil.
Pour oat mixture over bananas and blueberries.
Pour milk mixture over the oats, making sure to distribute the mixture as evenly as possible over the oats.
Sprinkle remaining blueberries and pecans over the the top.
Bake an additional 30 minutes (uncovered), or until the top is golden brown and the oatmeal has set.
Serve warm from the oven.

Related Recipes