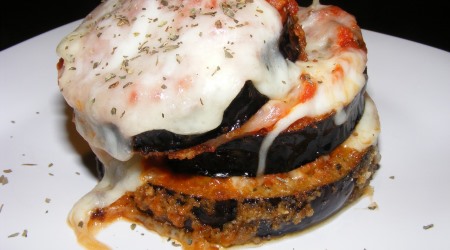 Ready in half the time it takes to make traditional eggplant Parmesan, this version is stacked, loaded with cheese and sauce, and absolutely heavenly!  I found the recipe on MadHungry.com. You gotta try this one!
Ingredients:
1 eggplant (1 1/4 pounds total), sliced crosswise 1/3-inch thick (12 slices total)
4 Tablespoon extra virgin olive oil, divided
Kosher salt, to taste
1/2 cup breadcrumbs
1/4 cup freshly grated Parmesan cheese
Freshly ground black pepper, to taste
1 teaspoon dried oregano
2 Tablespoons fresh basil, chopped
1 1/2 cups prepared marinara sauce
1 lb. fresh mozzarella, halved lengthwise and sliced crosswise 1/4-inch thick (12 slices total)
Extra virgin olive oil, to drizzle
Freshly grated Parmesan, for topping

Directions:
Preheat oven to 375 degrees F.
Preheat grill pan over medium-high heat.
Brush eggplant slices with 3 Tablespoons olive oil and season with salt.
Grill 8-10 minutes, flipping once, until charred and soft.
In a medium bowl combine breadcrumbs, Parmesan, pepper, oregano, basil, and remaining Tablespoon olive oil.
Place 4 slices grilled eggplant on parchment-lined baking sheet.
Top with 2 Tablespoons marinara sauce, 1 Tablespoon breadcrumbs, and slices of mozzarella.
Repeat with two more layers.
Drizzle with olive oil.
Bake, uncovered, for 20 minutes.
Serve with extra Parmesan cheese, if ya like.

Related Recipes