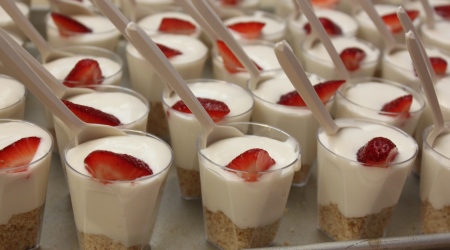 Could these be any cuter? I made them for a party recently and they were a huge hit! The recipe comes from Weightwatchers.com.
Ingredients:
8 oz. cream cheese, softened
1/3 cup vanilla yogurt
1/4 cup powdered sugar
1/4 cup milk
2 teaspoons fresh lemon juice
1 cup whipped cream
1 Tablespoon butter
1 cup graham cracker crumbs
Pinch table salt
16 fresh strawberries, rinsed and quartered
Directions:
In a large bowl, beat together cream cheese, yogurt, powdered sugar, milk, and lemon juice until smooth.
Fold in whipped topping until just combined.
Place butter in a small microwave-safe bowl and microwave until melted. Add graham cracker crumbs and salt. Gently mix to combine.
Line up sixteen 2-oz. plastic shot glasses on a work surface (I bought mine on Amazon.com).
Layer each one with 1 tablespoon crumb mixture, a heaping 3 tablespoons cheese mixture and 1 tablespoon strawberries.
Refrigerate at least 1 hour before serving.

Related Recipes