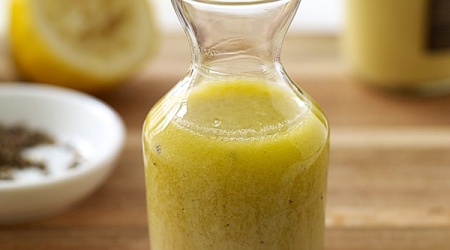 I've always been a big fan of the Good Seasons "make your own vinaigrette" packets. But in an effort to cut down on salt and sugar (and unpronounceable ingredients) I went looking for a homemade vinaigrette recipe that didn't call for a packet. And I do believe I've found a winner! This recipe comes from Weightwatchers.com and it's so good I could drink it. But before you do that, try it tossed on fresh spring greens, sprinkled with tomatoes and feta cheese. YUM!
Ingredients:
5 Tablespoons water
2 Tablespoons extra virgin olive oil
2 Tablespoons red wine vinegar
1/2 cup fresh grape tomatoes, sliced in half
1/4 cup fresh chives, chopped
1 clove fresh garlic, minced
3/4 teaspoon granulated sugar
3/4 teaspoon table salt
1/4 teaspoon black pepper, freshly ground
Directions:
Place all ingredients in a blender or mini-chopper and blend thoroughly.
Refrigerate at least 1 hour before serving on your favorite salad.
Store in a tightly sealed container in the fridge for up to a week.

Related Recipes