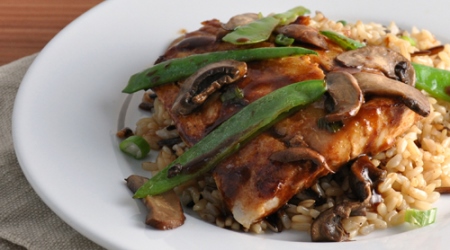 My family went crazy for this Cooking Light meal. It has so much flavor and the sauce is amazing over brown rice!
Ingredients:
2 Tablespoons hoisin sauce
1 Tablespoon water
2 teaspoons lower-sodium soy sauce
1 1/2 teaspoons minced fresh ginger
1 1/2 teaspoons dark sesame oil
1/2 teaspoon black pepper
3 Tablespoons canola oil, divided
4 (6-oz.) flounder fillets
1/4 teaspoon kosher salt
1 cup diagonally sliced snow peas
2 green onions, thinly sliced
1 cup sliced shiitake mushrooms
Directions:
Combine hoisin and next 5 ingredients in a bowl. Reserve 4 teaspoons.
Heat a nonstick skillet over medium-high heat.
Add 1 tablespoon canola oil.
Sprinkle fillets with salt.
Add two fillets to pan and cook 4 minutes.
Turn, then brush each with 1 teaspoon hoisin mixture.
Cook 2 more minutes.
Remove fish from pan.
Repeat with 1 tablespoon canola oil, 2 fillets, and 2 teaspoons hoisin mixture.
Heat a separate skillet over high heat.
Add 1 tablespoon canola oil.
Add peas and onions and saute 1 minute.
Add mushrooms and saute 2 minutes.
Drizzle fish with remaining hoisin mixture and serve with veggies.

Related Recipes