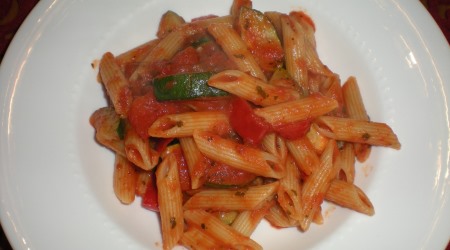 This is an easy, healthy, and filling dinner. It also freezes well. My whole family loved this recipe!
Ingredients:
1/2 lb. whole wheat penne
1 Tablespoon extra virgin olive oil
1 medium yellow onion, chopped
2 cups crimini mushrooms, cleaned and sliced
1/2 cup diced red bell pepper
3 fresh garlic cloves, minced
1 can diced tomatoes, un-drained
1/2 cup veggie stock
2 large carrots, diagonally cut into 1/2 inch thick slices
1 lb. thin asparagus, cut into 1/2 inch pieces
1 zucchini, cut diagonally into 1/2 inch thick slices
3/4 teaspoon kosher salt
1/2  tsp pepper
1 teaspoon dried Italian Seasoning

Directions:
Cook the penne according to package directions, omitting fat and salt. Drain and set aside.
Meanwhile heat a large skillet over medium high heat.
Swirl in olive oil and add onion, mushrooms, red pepper and garlic.
Cook, stirring frequently, until golden, about 5 minutes.
Add tomatoes and carrots, bring to a boil.
Reduce the heat and simmer, covered, 5 minutes.
Add asparagus, zucchini, salt, pepper, Italian seasoning.
Return to a boil.
Reduce heat and simmer, covered, until veggies are just crisp-tender, about 6-7 minutes.
Toss with cooked pasta.
Top with freshly grated parmesan cheese and red pepper flakes, if ya like!

Related Recipes