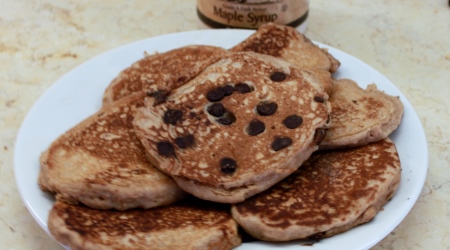 My family loves these thick, whole wheat pancakes with melted chocolate chips tucked inside. Top with butter, powdered sugar and strawberry slices for a beautiful brunch! Also delish topped with pure maple syrup.
Ingredients:
1 3/4 cups whole wheat flour
2 Tablespoons light brown sugar, packed
2 teaspoons baking powder
1/2 teaspoon baking soda
1/4 teaspoon salt
1 large egg
1 1/2 cups lowfat buttermilk
3 Tablespoons canola oil
1/2 cup chocolate chips
Directions:
In a medium bowl, whisk together flour, sugar, baking powder, baking soda and salt.
In a large bowl, whisk together egg, buttermilk and oil.
Stir in dry ingredients and mix just until moistened (batter will be lumpy).
The batter will be pretty thick, but if it's too thick for your taste, mix in a couple more Tablespoonfuls of buttermilk.
Heat large skillet or griddle and spray with nonstick spray.
Scoop batter onto heated griddle, using 1/4 cup measuring cup.
Spread into a circle and sprinkle a few chocolate chips on top.
Cook over medium-low heat for about 1 to 2 minutes, until edges begin to curl under a bit and appear dry when you place the spatula underneath.
Flip and cook the other side for a minute or two.
Pancakes should be golden brown on both sides.
Serve immediately.

Related Recipes