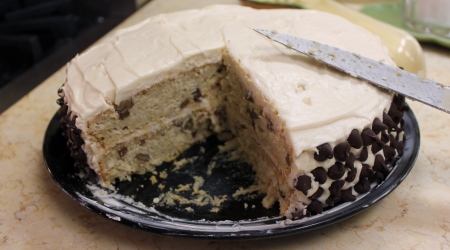 This cake is absolutely to die for! It's moist, creamy, and not too sweet. Anyone would be happy to blow out candles on this baby!
Ingredients:
1 stick butter, softened
1/2 cup butter-flavored Crisco
2 cups granulated sugar
5 egg yolks
2 cups all-purpose flour
1 teaspoon baking soda
1 cup buttermilk
1 teaspoon pure vanilla extract
1 cup flaked coconut
1 cup chopped pecans
5 egg whites, stiffly beaten
Directions:
Pre heat oven to 350 degrees F.
Butter and sugar two 9-inch cake pans. Set aside.
Using an electric mixer, cream together the butter and Crisco.
Add sugar and beat well.
Add egg yolks and beat.
Alternating with buttermilk, add flour and baking soda and beat between each addition.
Stir in vanilla, coconut and nuts.
Fold in stiffly beaten egg whites 2 Tablespoons at a time.
Pour evenly into prepared cake pans.
Bake 20-25 min or until toothpick comes out clean.
Cool completely.
Frost with Cream Cheese Frosting.
Decorate with additional pecans or chocolate chips.
Refrigerate leftovers.

Related Recipes