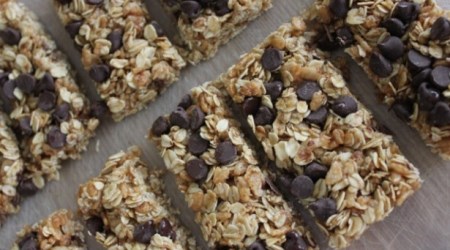 Step aside packaged granola bars and make room for this home-made version! They are easy to make and absolutely delicious–filled with coconut, almonds and chocolate chips. I brought these to a picnic and they were gone in a minute.
Ingredients:
2 cups old-fashioned rolled oats
1/2 cup almonds, sliced
1/3 cup honey
1/4 cup brown sugar
2 Tablespoons unsalted butter, plus extra for pan
2 teaspoons pure vanilla extract
1/4 teaspoon kosher salt
1/2 cup shredded coconut
1/4 cup semi sweet chocolate chips
Directions:
Butter a 9×9-inch glass baking dish and set aside.
Pre heat oven to 350 degrees F.
Spread oats and almonds onto a baking sheet pan and toast 10 minutes, stirring occasionally.
In the meantime, combine honey, brown sugar, butter, vanilla extract and salt in a medium saucepan and place over medium heat.
Cook until brown sugar has completely dissolved.
Once oat mixture is done, remove from oven and reduce heat to 300 degrees F.
Immediately add oat mixture to brown sugar mixture.
Next add coconut and chocolate chips. Stir to combine.
Spread mixture evenly into prepared baking dish and press down, evenly distributing mixture in the dish.
Bake 25 minutes, until golden brown around edges.
Remove from oven and allow to cool completely.
Cut into squares or bars, wrap individually in saran wrap then store in an airtight container for up to a week.

Related Recipes