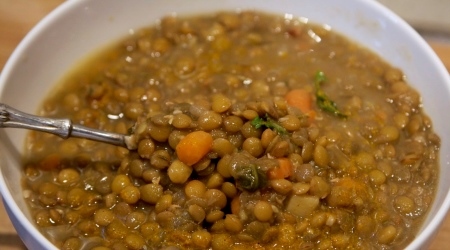 This vegetarian stew is loaded with lentils, sweet potatoes, curry and coconut milk. Does it get any healthier than that?? It's also filling and delicious! The recipe comes from AmbitiousKitchen.com.
Ingredients:
2 lbs. sweet potatoes (about 6 medium), peeled and diced into 1-inch cubes
1 teaspoon extra virgin olive oil
1 onion, chopped
2 large carrots, peeled and chopped
3 cloves garlic, minced
1 teaspoon fresh grated ginger
2 Tablespoons sweet curry powder
1/4 teaspoon turmeric
1/2 teaspoon ground coriander
1/2 teaspoon kosher salt, plus more to taste
4 cups vegetable broth
1 1/2 cups green lentils
1/2 cup light canned coconut milk
1/4 teaspoon cinnamon

Instructions:
Heat olive oil in a large pot over medium-high heat.
Add onion, carrot, and half of the diced sweet potatoes and saute until the onions begin to soften and turn translucent about 5 minutes.
(Note: the other half of the diced sweet potatoes will be reserved for later use.)
Add garlic, ginger, curry powder, turmeric, coriander and salt and saute for 2 minutes longer, stirring frequently.
Next add vegetable broth and lentils, and bring to a boil over high heat.
Cover pot, reduce heat to medium low, and simmer for 30-45 minutes or until lentils are tender.
While stew is simmering, make the coconut-sweet potato broth:
Place a medium pot over high heat and fill with water, bring water to a boil and add in the rest of your diced sweet potatoes that you had set aside.
Reduce heat to medium, cover, and continue to cook for 8-10 minutes or until sweet potatoes are tender and nearly falling apart.
Once tender, drain water from sweet potatoes, and place them into a food processor.
Add coconut milk and cinnamon and puree until it forms a somewhat smooth consistency.
Next add sweet potato coconut puree to the stew, and continue to cook to thicken broth.
The stew is done when all of the lentils are tender, and the broth has thickened.
Season soup to taste with additional salt and pepper.
Scoop into bowls, and garnish with Greek yogurt if desired.

Related Recipes