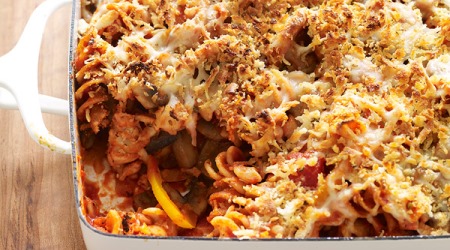 Pasta meets pizza in this comforting one-dish meal. Bursting with peppers, mushrooms, marinara, and Italian chicken sausage, this will be a huge hit when it hits your table! I found the recipe on WeightWatchers.com.
Ingredients:
12 oz. uncooked whole-wheat rotini (about 3 cups)
1 teaspoon extra virgin olive oil
1/2 cup panko breadcrumbs
2 Tablespoons grated Parmesan cheese
1 teaspoon dried oregano
8 oz. cooked chicken sausage, Italian-variety, thinly sliced
1 medium yellow bell pepper, thinly sliced
1 medium yellow onion, chopped
1 lb. fresh mushrooms, cleaned and sliced
2 Tbsp water
4 cups jarred marinara sauce
1 cup shredded mozzarella cheese

Instructions:
Pre heat oven to 350 degrees F.
Coat a 9×13-inch baking dish with cooking spray.
Cook pasta according to package directions. Drain pasta and return to pot.
Meanwhile, heat oil in a large nonstick skillet over medium heat.
Add breadcrumbs and reduce heat to medium-low.
Cook, stirring often, until toasted, about 4 minutes.
Remove breadcrumbs to a small bowl and stir in Parmesan and oregano and set aside.
In same skillet, cook sausage over medium-high heat, stirring frequently, until browned, about 5 minutes.
Remove to a plate and drain any fat from skillet.
Add pepper and onion to skillet.
Cook over medium-high heat, stirring frequently, until vegetables start to brown and soften, about 5 minutes.
Add mushrooms and water to skillet.
Cook, stirring frequently, until vegetables are tender, about 8 minutes.
Add vegetables, sausage and marinara sauce to pot with drained pasta. Toss to coat.
Spoon into prepared baking dish and sprinkle with mozzarella and reserved breadcrumbs.
Bake until heated through and cheese melts, about 25 minutes.

Related Recipes