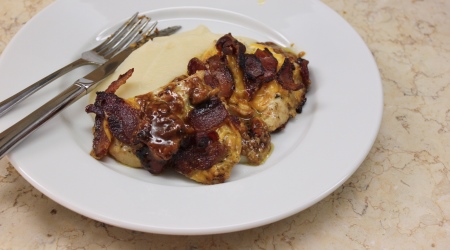 Looking for a scrumptious low carb dinner? If so, then this recipe is for you! It's easy and delicious–kids absolutely love it. Thanks to the site http://www.kevinandamanda.com for the original post.
Ingredients:
2 Tablespoons extra virgin olive oil
2 Tablespoons butter
6 skinless, boneless chicken breasts, split
1/4 cup teriyaki sauce
1/2 cup ranch dressing
1 cup cheddar cheese, shredded
1/2 lb. bacon, cooked and crumbled
Ingredients:
Pre heat oven to 350 degrees F.
In a large skillet, heat oil & butter over medium-high heat.
Add chicken breasts, and saute 4 to 5 minutes each side, until lightly browned.
Place browned chicken breasts in a 9×13 inch baking dish.
Cover evenly with teriyaki sauce and ranch dressing.
Sprinkle with cheese and top with bacon.
Bake 25 to 35 minutes, or until chicken is no longer pink and juices run clear.

Related Recipes