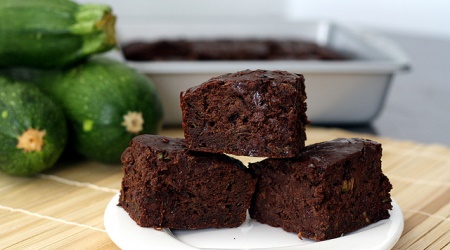 These may sound weird, but they are divine! I eat them for breakfast on the go with a tall coffee. They are moist, dense, and so chocolaty! You do taste the banana, but not the zucchini. I like to pretend they're healthy because of the fruit and veg ingredients

Ingredients:
2 1/2 cups grated zucchini, raw
1/2 cup ripe mashed banana (about 1 medium)
1 Tablespoon water
1 teaspoon pure vanilla extract
1 cup whole wheat flour
1 cup all-purpose flour
1 1/2 teaspoons baking soda
1/2 teaspoon salt
1/3 cup cocoa powder
2/3 cup sugar
1/2 cup semi sweet chocolate chips
Directions:
Pre heat oven to 350 degrees F.
Mix zucchini, banana, water and vanilla extract in a large bowl.
In another bowl, mix  together remaining ingredients (wheat flour through chocolate chips).
Fold dry ingredients into wet. Batter will be stiff.
Spray 9 x 13-inch baking pan with cooking spray.
Scrape batter into prepared pan. Gently spread out to evenly cover pan.
Bake 25-30 minutes until a wooden pick comes out clean.
Makes 18.

Related Recipes