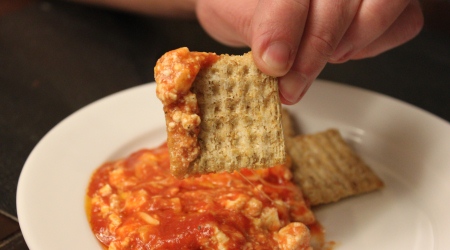 The two times that I've made this dip for a party it was literally gone in 5 minutes. It's delicious! However, I cannot stress enough that the quality of feta cheese will make all the difference in this dip. You need to buy REAL feta cheese–that means from a sheep, not a cow. Many grocery stores will sell it, but you have to read the labels carefully. Trader Joe's has it and all specialty cheese shops should sell it. Real feta cheese is tangy and creamy, unlike "fake" feta which is dry and bland. So splurge on the good stuff, then give this dip a try. But get in there fast, because it's sure to disappear quickly!
Ingredients:
1 cup real feta cheese, crumbled
3 cloves fresh garlic, minced
1 teaspoon McCormick's Greek Seasoning
1/4 cup canned tomato sauce
1/2 cup parmesan cheese, shredded
1/2 cup mild cheddar cheese, shredded
Flat-bread, crackers, or bread sticks, for serving
Directions:
Preheat oven to 400 degrees F.
In a small oven-safe baking dish, layer crumbled feta cheese, covering the entire bottom of dish.
Sprinkle minced garlic on top of  feta cheese.
Sprinkle Greek seasoning over that.
Spoon in tomato sauce, covering entire cheese/garlic mixture.
Then layer both parmesan and cheddar cheeses on top of tomato sauce.
Bake, uncovered, for 15 minutes, or until cheese is melted and bubbly.
Serve warm with flat-bread, crackers, or bread sticks.

Related Recipes