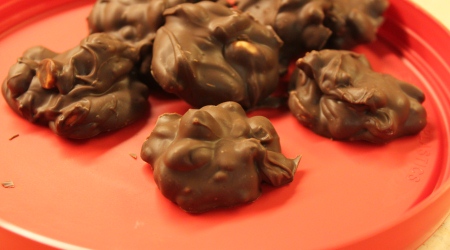 Oh my goodness, it does not get any easier than this! (You don't even have to turn on the oven.) I made these candies as holiday gifts for my neighbors and they were a huge hit. The combination of 2 different chocolate chips, plus butterscotch chips, creates the perfect balance of flavors. The peanuts and pretzels add a salty crunch for an irresistible candy. One bite and you'll be hooked!
Ingredients:
1 cup semisweet chocolate chips
1 cup milk chocolate chips
3/4 cup butterscotch chips
1 cup unsalted dry-roasted peanuts
1 cup stick pretzels, broken into small pieces
Directions:
Place all 3 chips into a large microwave safe bowl.
Microwave on high for 2 1/2 minutes.
Remove and stir briskly with a fork.
Return to microwave and cook another 30 seconds on high, or until all chocolate is melted.
Fold in peanuts and pretzels.
Line a baking sheet with parchment paper and scoop heaping Tablespoons of the chocolate mixture onto sheet.
Refrigerate 1 hour, or until completely chilled and hardened.
Store covered in the fridge.

Related Recipes