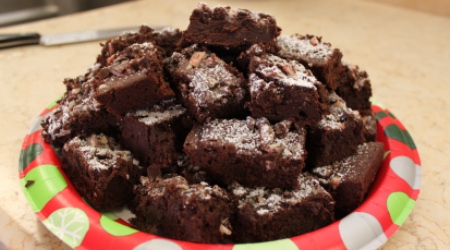 These brownies are, in a word, decadent! I found this recipe in Sunset Magazine, so please note, not in Cooking Light. I repeat not in Cooking Light. Even if you cut these suckers into 24 pieces, there are 250 calories PER BROWNIE. Holy, schmoley that's a lot of chocolate-mint goodness. If you can manage to wait, I recommend serving these brownies a day after baking because they develop an even fudgier texture and mintier flavor. Watch out waist-line, it's brownie time.
Ingredients:
1 1/2 cups all-purpose flour
3/4 cup unsweetened cocoa powder
1/2 teaspoon Kosher salt
1/4 teaspoon baking powder
1 cup unsalted butter
6 oz. bittersweet chocolate chips
1 1/2 cups granulated sugar
5 eggs
1 1/2 teaspoons pure vanilla extract
1 teaspoon peppermint extract
5 oz. dark chocolate, finely chopped and melted, for topping
Coarsely crushed peppermint candies, very fine pieces sifted out, for topping
Directions
Preheat oven to 300 degrees F.
Spray a 9×13-inch baking pan with Pam cooking spray and set aside.
Sift together flour, cocoa, salt, and baking powder into a bowl.
Microwave butter and bittersweet chocolate in a medium glass bowl, stirring often, until melted and smooth, about 2 minutes. Set aside to cool slightly.
Whisk together sugar and eggs in a large bowl until blended.
Add both extracts and whisk to blend.
Stir cooled melted chocolate mixture into egg mixture.
Gently fold in flour mixture with a plastic spatula until no streaks remain.
Pour batter into prepared pan and spread evenly.
Bake brownies until a toothpick inserted in comes out clean, 25 to 30 minutes.
Cool to room temperature, about 45 minutes.
Put dark chocolate in a resealable plastic bag, snip off a small corner tip, and drizzle half over brownies.
Sprinkle with candies and drizzle with remaining chocolate.
Let cool until chocolate sets, 25 minutes, then cut into squares.

Related Recipes