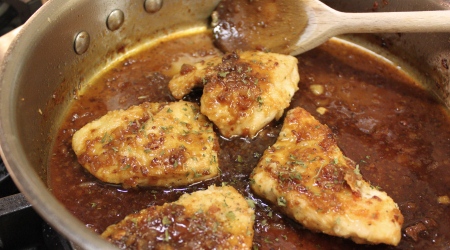 Here's an amazing recipe from Cooking Light magazine, that will have you eating a Brewery meal right at home. My whole family liked this dish–I'll be making it lots around here. Serve with garlic mashed potatoes or over buttered noodles for a fantastic dinner.
Ingredients:
2 teaspoons extra virgin olive oil
4 (6 oz.) skinless, boneless chicken breasts
1/4 cup all-purpose flour
Kosher salt and freshly ground black pepper, to taste
3 Tablespoons thinly sliced shallots
1/2 cup beer (good quality amber ale or wheat beer–I used Fat Tire Amber Ale)
2 Tablespoons soy sauce
1 Tablespoon whole-grain Dijon mustard
1 Tablespoon honey
2 Tablespoons fresh flat-leaf parsley leaves
Directions:
Heat a large skillet over medium-high heat.
Add oil to pan and swirl to coat.
Sprinkle chicken evenly with pepper and salt, to taste.
Lightly dredge each piece in flour.
Add chicken to pan and sauté 6 minutes on each side or until done.
Remove chicken from pan and keep warm.
Add shallots to pan and cook 1 minute or until translucent. Scrap bottom of pan to loosen up any bits.
Combine beer and next 3 ingredients (through honey) in a small bowl and stir with a whisk.
Add beer mixture to pan and bring to a boil.
Cook 5 minutes or until liquid is reduced to 1/2 cup.
Return chicken to pan and turn to coat with sauce.
Sprinkle evenly with parsley.

Related Recipes