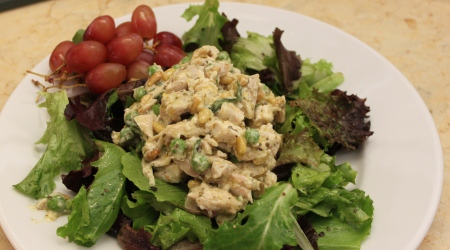 Here's a fresh new take on the classic chicken salad recipe. This combo of fresh basil, lemon, pesto and peas is amazing!!! Scoop over lettuce and serve with grapes on the side, for a fab lunch! Thanks to Tastykitchen.com for the recipe.
Ingredients:
3 cups cooked chicken, diced
2 whole lemons, juiced and zested
3 Tablespoons extra virgin olive oil
1/2 cup mayo
Kosher salt and freshly ground black pepper, to taste
1 Tablespoon basil pesto
1/2 cup frozen green peas, thawed
12 whole fresh basil leaves, thinly sliced into ribbons
1/4 cups pine nuts, toasted
Directions:
Whisk together lemon juice, olive oil, mayo, salt, pepper, and pesto until creamy and smooth.
Combine chicken, peas, basil, and pine nuts in a bowl and stir together.
Pour on dressing and toss to combine.
Cover and refrigerate for at least 1 hour before serving.

Related Recipes