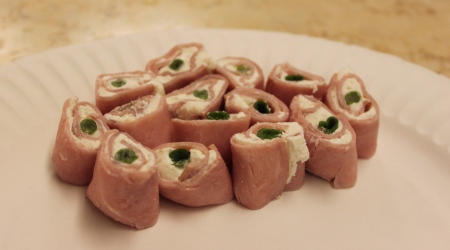 Here's a throw-back to the 80's.  My Mom made these for every party that I remember, growing up. And now the tradition carries on and I make them for parties. They are simple to make, and a hug hit with party guests. The classics prevail, am I right?
Ingredients:
10 thin slices deli ham
1/2 cup cream cheese, softened
5 scallions, both ends trimmed, cut in half
Directions:
Place 1 slice of ham on a cutting board.
Gently spread 1 Tablespoon of cream cheese over entire slice of ham.
Place 1 piece of scallion at one end of ham.
Roll ham end-to-end, enclosing scallion.
Using a sharp knife, slice into bite size pieces.
Repeat using remaining ingredients.

Related Recipes