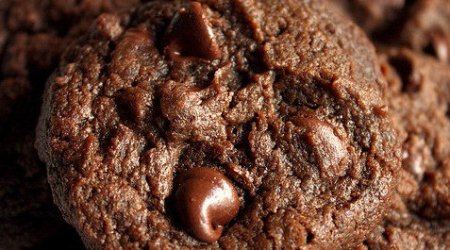 When one dose of chocolate just isn't enough–double up! These are like a rich, chewy, fudgy, brownie/cookie. Definitely keep a tall glass of cold milk nearby.
Ingredients:
2 1/4 cups all-purpose flour
1/2 cup unsweetened baking cocoa
1 teaspoon baking soda
1/2 teaspoon salt
1 cup butter, softened
1 cup packed brown sugar
3/4 cup granulated sugar
1 teaspoon pure vanilla extract
2 eggs
2 cups semi-sweet chocolate chips
Directions:
Pre heat oven to 375 degrees F.
Whisk together flour, cocoa, baking soda and salt in a small bowl. Set aside.
Beat butter, brown sugar, granulated sugar and vanilla extract in a large mixing bowl until creamy.
Beat in eggs for about 2 minutes or until light and fluffy.
Gradually beat in flour mixture.
Stir in chocolate chips.
Drop by rounded Tablespoons onto un-greased baking sheets.
Bake 8 to 10 minutes or until cookies are puffed.
Cool on baking sheets for 2 minutes then remove to wire racks to cool completely.

Related Recipes