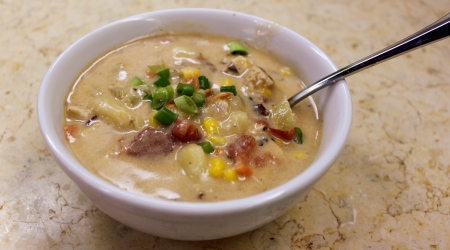 This chicken corn chowder is hearty enough to serve as main course, with a chunk of crusty fresh bread. My family LOVED this! Leftovers were even better the next day.
Ingredients:
6 slices bacon, diced
1 Tablespoon butter
1/2 cup celery, diced
2 cups potatoes, diced small
1 cup yellow onion, diced
1/2 cup carrot, diced
3 Tablespoons flour
2 1/2 cups chicken broth
1 teaspoon Creole seasoning
1 cup corn kernels
1 1/2 cups half-and-half
2 cups cooked chicken, diced
1 can (14.5 oz.) diced tomatoes, un-drained
Kosher salt and freshly ground black pepper, to taste
Directions:
In a large Dutch oven, fry diced bacon over medium-high heat until crispy.
With a slotted spoon, remove bacon pieces to paper towels to drain. Set aside.
Add butter to bacon drippings.
Add celery, potato, onion, and carrot.
Saute, stirring constantly, until onion and celery are tender, about 10 minutes.
Stir in flour until well incorporated.
Add chicken broth and Creole seasoning, stirring to blend well.
Cook, stirring, until thickened. Cover and simmer for 12 minutes.
Add chicken and corn and simmer for 7 minutes longer, until vegetables are tender.
Add half-and half and tomatoes (with juice).
Heat through (do not boil).
Stir in reserved crispy bacon pieces.
Add salt and pepper to taste.
Top with chopped scallions, if ya like.

Related Recipes