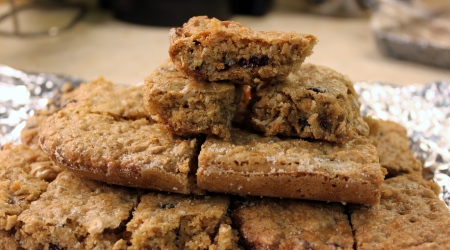 These are a fantastic treat! And I do mean treat–Don't be fooled into thinking that a granola bars is healthy. They are essentially a different shaped cookie. So eat sparingly, but enjoy every bite! I got this recipe from Cooking Light magazine.
Ingredients:
2/3 cup all-purpose flour
1/3 cup whole-wheat flour
1 teaspoon baking powder
1/2 teaspoon Kosher salt
1 cup packed brown sugar
1/4 cup canola oil
2 Tablespoons half and half
2 eggs
1 1/2 cups whole-grain granola
3/4 cup dried cranberries, chopped
1/2 cup flaked coconut
Granulated sugar, for dusting
Directions:
Pre heat oven to 350 degrees F.
Coat a 13 x 9-inch glass baking pan with cooking spray and dust with granulated sugar. Set aside.
Lightly spoon all-purpose flour and whole-wheat flour into dry measuring cups and level with a knife.
Combine both flours, baking powder, and salt in a small bowl and stir with a whisk.
Combine sugar, oil, milk, and eggs in a separate large bowl. Beat with a mixer at high speed until smooth.
Add flour mixture, beating at low speed until blended.
Fold in granola, cranberries, and coconut.
Spoon batter into prepared pan.
Bake 25-30 minutes or until golden.
Cool completely in pan on a wire rack. Cut into bars.

Related Recipes