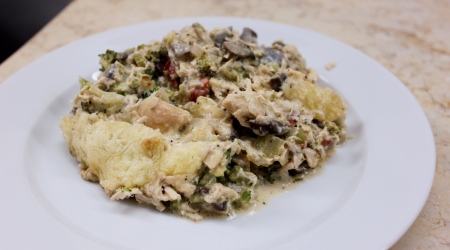 Try this deeee-licious casserole with either leftover chicken or turkey. It's all meat and veggies, so you can scoop it over rice or buttered noodles if ya like. But it's equally tasty on it's own! Thanks to Penzey's Spices magazine for this recipe.
Ingredients:
1 cup butter (1 stick)
1 cup celery, diced
1 small sweet onion, diced
1 cup fresh Crimini mushrooms, sliced
1 lb. fresh broccoli, chopped
1 1/2 lbs. cooked chicken (or turkey), cubed
1/2 cup jarred roasted red peppers, drained and diced
1 teaspoon dried Italian seasoning
1/2 teaspoon Kosher salt
Freshly ground black pepper, to taste
1/4 teaspoon garlic powder
1 (8 oz.) package cream cheese
1 cup Swiss Cheese, shredded
Directions:
Pre heat oven to 350 degrees F.
Spray a 3-quart casserole dish with Pam cooking spray.
In a large frying pan, melt butter over medium heat.
Add celery, onion, mushrooms, and broccoli.
Cook, stirring occasionally, until tender, about 10 minutes.
Stir in red pepper, chicken, Italian seasoning, salt, pepper and garlic powder.
Cut cream cheese into several cubes and add to pan.
Reduce heat to low and cook until cheese is melted, stirring frequently.
Stir in Swiss cheese.
Pour mixture into prepared dish.
Bake, uncovered, approximately 25-30 minutes (until the top is golden brown).

Related Recipes