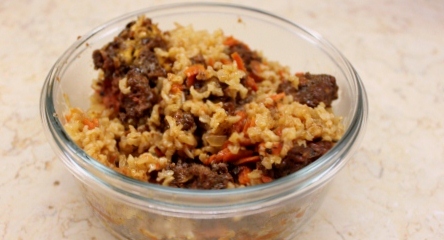 Here's a recipe that at first glance, seemed weird to me–the ingredients didn't exactly sound like they went together. But I gave it a try anyhow, because I was desperate to use ground beef in a new and exciting way. And trust me on this–IT'S SO GOOD! It baked up perfectly, full of flavors that compliment each other in a delicious way. Not weird at all. My kids devoured this and so did I. Thanks to allrecipes.com for this keeper.
Ingredients:
1 cup brown Basmati rice, uncooked
1 medium white onion, diced
3 medium carrots, grated
1 1/2 lbs. lean ground beef, uncooked, crumbled
1 green bell pepper, seeded and diced
2 teaspoons kosher salt
Freshly ground black pepper, to taste
2 cups V8 juice
2 Tablespoons Worcestershire sauce
1/2 teaspoon dried basil
2 cups extra sharp cheddar cheese, shredded
Directions:
Pre heat oven to 350 degrees F.
Spray a 9×13 glass baking dish with Pam cooking spray.
Into that pan, layer rice, onion, carrots, beef and green pepper.
Sprinkle with salt and freshly ground black pepper, to taste.
Combine tomato juice, Worcestershire sauce and basil in a separate bowl.
Pour over the top.
Sprinkle with cheese.
Cover tightly with tin foil and bake 1 1/2 hours or until rice is tender.

Related Recipes