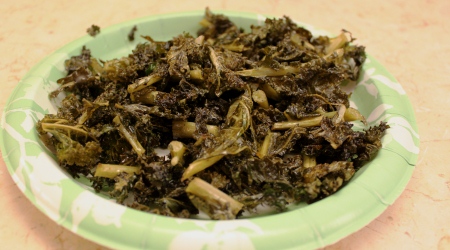 These really taste better than they should…I mean, kale? Really? Yuck, right? No my friends, YUM YUM YUM! Somehow baking kale until it's as crispy as a chip makes it lose all that bitter bite. And adding vinegar gives it so much more flavor and balance. I'm serious, these are incredible! My kids devoured them!
Ingredients:
1 head fresh kale, washed and thoroughly dried
1 Tablespoon extra virgin olive oil
Garlic salt, to taste
Freshly ground black pepper
1 Tablespoon cider vinegar
Directions:
Pre heat oven to 300 degrees F.
Remove tough ribs from kale and cut leaves into 1 1/2-inch pieces.
Place kale pieces in a large bowl and toss gently with remaining ingredients.
Place in a single layer on a baking sheet and bake until crisp, turning the leaves halfway through, about 20 minutes.

Related Recipes