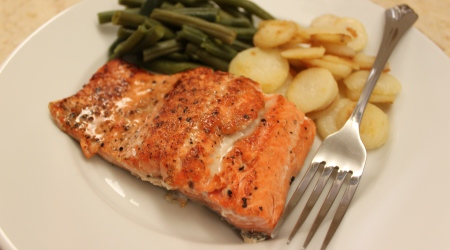 Thanks to my friend Amie for the simple, yet incredible delicious, salmon recipe! My family loved it and it's sure to be my new go-to recipe for salmon fillets.
Ingredients:
1 teaspoon brown sugar
1/2 teaspoon kosher salt
1/4 teaspoon cornstarch
4 salmon fillets (skin on)
Freshly ground black pepper, to taste
1 teaspoon extra virgin olive oil
Directions:
Pre heat oven to 300 degrees F.
Combine brown sugar, salt, and corn starch in a small bowl.
Pat salmon dry with paper towel, then sprinkle evenly with pepper to taste.
Then evenly sprinkle brown sugar mixture on flesh side of each piece of salmon.
Heat oil in pan until just smoking.
Place salmon, flesh side down, and cook for one minute.
Flip over and cook skin for 1 more minute.
Move pan to oven for 7-10 minutes (depending on thickness of your fillets).

Related Recipes