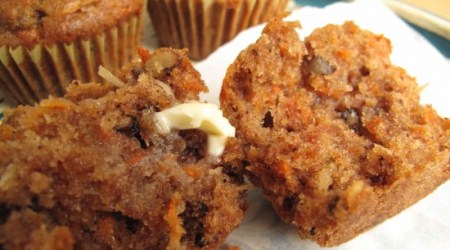 This recipe may seem like "everything but the kitchen sink", but it works. I promise you that these muffins are amazing! I made them for my daughter's class and both the kids and the parents gobbled them up. The recipe is a KP original, after hours of internet research, so please enjoy!
Ingredients:
1 1/4 cup granulated sugar
1 1/4 cup all-purpose flour
1 cup whole wheat flour
1 Tablespoon ground cinnamon
2 teaspoons baking soda
1/2 teaspoon salt
3/4 cup shredded, sweetened coconut
3/4 cup raisins
2 large apples, peeled, cored and grated
1 cup carrots, grated
1/2 cup coarsely chopped walnuts
3 large eggs
1 cup vegetable oil
1/3 cup plain yogurt
1 teaspoon pure vanilla extract
Directions:
Pre heat oven to 350 degrees F.
Line 18-cup muffin tin with paper liners. Set aside.
Whisk together sugar, flours, cinnamon, baking soda, and salt in a large bowl.
Add coconut, raisins, apples, carrots, and nuts. Stir to combine.
In a separate bowl, whisk eggs with oil, yogurt and vanilla.
Add wet ingredients to dry ingredients and stir until just combined. Do not over-mix.
Spoon batter into muffin tins, filling to top of each cup.
Bake 25 minutes, or until a toothpick inserted into middle comes out clean.
Cool muffins in tin for 10 minutes, then turn onto a rack to finish cooling.

Related Recipes