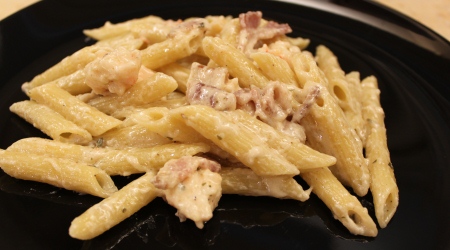 I had bacon in the fridge. I had shrimp in the freezer. I had a craving for rich, flavorful pasta. The results are below

Ingredients:
1 lb. penne pasta
1/4 lb. bacon, cut into 1/2-inch pieces
1/2 cup frozen peas, thawed (not pictured–sorry!)
1 lb. raw shrimp, uncooked, peeled, deveined, and cut into 1-inch pieces
1 Tablespoon butter
1 cup heavy cream
Freshly ground black pepper and kosher salt, to taste
1/4 teaspoon ground nutmeg
3/4 cup freshly grated parmesan cheese
Directions:
Cook pasta according to al dente directions. Drain and set aside.
In a large skillet, saute bacon until fat is rendered (do not crisp).
Add thawed peas and saute 2 minutes.
Add shrimp, cooking and stirring until just done (about 3 minutes).
Add butter and lower heat so butter melts slowly.
Add cream, salt, pepper, and nutmeg.
Bring to a simmer and cook on low heat for 5-8 minutes, until slightly thickened.
Place pasta in a large serving bowl and top with sauce. Gently mix to combine.
Stir in parmesan cheese and serve right away.

Related Recipes