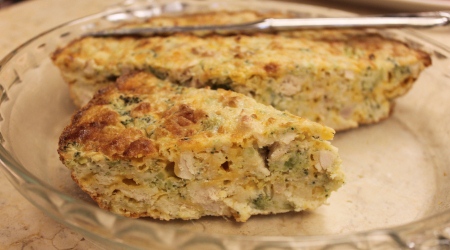 My Grandma Hirvo would be so proud of this recipe–I literally threw it together based on leftovers from the week. And it was excellent! Works well for breakfast, lunch, or dinner.
Ingredients:
2 cups sharp cheddar cheese, shredded
1 1/2 cup cooked chicken, diced
1 Tablespoon dried minced onion
2 cups fresh broccoli
1 1/3 cup milk
3 eggs
3/4 cup Bisquick baking mix
Freshly ground black pepper and kosher salt, to taste
1/8 teaspoon dried thyme
Directions:
Steam broccoli for 10 minutes until tender. Cool and chop.
Preheat oven to 400 degrees F.
In a large bowl, combine cheese, chicken, onion and broccoli.
In a separate bowl, whisk together eggs, milk, Bisquick, salt, pepper and thyme.
Add egg mixture to chicken mixture and stir to combine.
Spray a 10-inch pie plate with Pam cooking spray.
Using a rubber spatula, scrape mixture into the pie plate and gently spread top to make even.
Bake for 35-40 minutes, or until firm to the touch and golden brown.
Let set 15 minutes before slicing.

Related Recipes