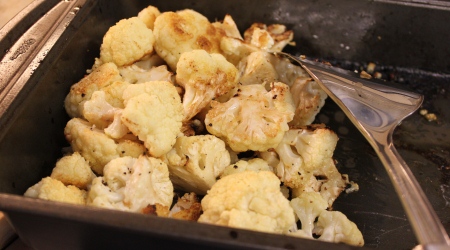 Here's a fabulous way to serve cauliflower! Roasting makes the veg sweet and mild. Plus with all the lemon, garlic, and parmesan you almost forget you're eating a veg at all

Ingredients:
5 cups fresh cauliflower florets (from 1 medium cauliflower), cut approximately into 2-inch pieces.
1/4 cup extra virgin olive oil
4 cloves fresh garlic, minced
2 Tablespoons freshly squeezed lemon juice
Kosher salt and freshly ground black pepper, to taste
1/4 cup freshly grated parmesan cheese
Directions:
Pre heat oven to 450 degrees F.
Place cauliflower florets on a large, rimmed roasting pan.
Drizzle olive oil over cauliflower.
Add garlic, lemon juice, salt and pepper, tossing gently to combine well.
Roast 15-20 minutes, stirring occasionally to ensure even roasting.
Remove from oven and sprinkle with parmesan cheese.
Squeeze on more lemon juice if ya like. Serve right away!

Related Recipes