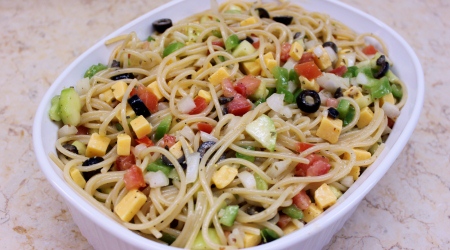 This is no ordinary pasta salad. Not at all. To be clear, this pasta salad is SUPREME! If you don't believe me, well then march off to your kitchen and make it. You'll be glad you did. It's like cold pizza in a bowl…with pasta…and Italian dressing…or something like that. I made this recipe up on a whim–you just gotta trust me!
Ingredients:
16 oz. spaghetti noodles
6 oz. extra sharp cheddar cheese, cubed
6 oz. hard salami, diced
1 small red onion, diced
1 small cucumber, peeled, seeded, and diced
2 medium firm tomatoes, seeded and diced
1 small can black olives, drained
1 (16 oz.) Italian Dressing (I used Newman's Own)
Directions:
Cook spaghetti noodles according to package directions until they are al dente (not completely cooked).
Rinse noodles under cold water to cool completely.
In a large bowl, toss noodles with all other ingredients until well combined.
Cover and refrigerate at least 1 hour before serving.

Related Recipes