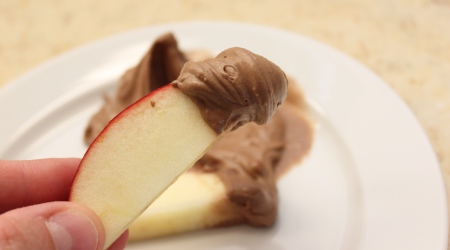 This sweet, chocolaty, creamy dip is awesome served with apple slices, bananas, strawberries, pears, graham crackers, ginger snaps, and whatever else you can think of! I brought this to a pool party recently and was repeatedly asked for the recipe. So here ya go!
Ingredients:
1 (13 oz.) jar Nutella
1 (6 oz.) container honey flavored Greek yogurt
1 (8 oz.) package cream cheese, softened
1 Tablespoon brown sugar
1 teaspoon pure vanilla extract
Fruit slices and graham crackers for serving.
Directions:
Combine all ingredients in a large mixing bowl.
Beat with an electric mixer until combined and creamy (about 5 minutes).
Chill 1 hour and serve with fruit slices and graham crackers for dipping.

Related Recipes