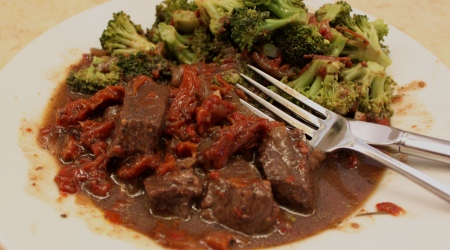 Here's a great recipe to try on a lazy Sunday afternoon. The cooking time allows for the beef to become very tender and for the sun-dried tomatoes to soften to the point of falling apart. Serve this over mashed potatoes, or over freshly steamed broccoli. Thanks to Cooking Light magazine for another keeper recipe!
Ingredients:
2 teaspoons extra virgin olive oil
2 lbs. beef stew meat, cut into 1-inch cubes
1 medium onion, sliced
4 fresh garlic cloves, minced
1 Tablespoon all-purpose flour
1 3/4 cups water
1 cup dry red wine
1 cup beef broth
1 cup sun-dried tomato halves, packed without oil, cut into strips
1 Tablespoon brown sugar
1 Tablespoon Worcestershire sauce
1 1/2 teaspoons chopped fresh rosemary
3/4 teaspoon salt
1/4 teaspoon freshly ground black pepper
1 bay leaf
1/4 cup chopped fresh parsley
Directions:
Heat olive oil in a large Dutch oven over medium-high heat.
Add beef and cook 4 minutes, browning on all sides.
Add sliced onion and cook for 7 minutes or until onion is softened, stirring occasionally.
Add minced garlic and cook 1 minute, stirring frequently.
Stir in flour and cook 2 minutes, stirring often.
Stir in water and next 9 ingredients (through bay leaf).
Reduce heat to medium-low.
Cover and simmer 1 hour.
Uncover and simmer additional 30-45 minutes or until beef is tender.
Discard bay leaf.
Sprinkle each serving with parsley.

Related Recipes