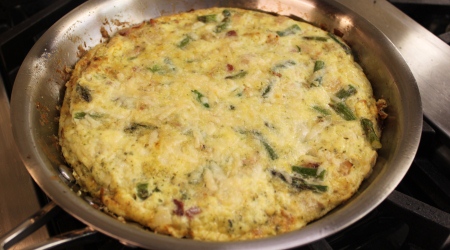 Here's my very first try at a frittata! And it was easy and delicious! This flavor combo is incredible. Serve with a side of fruit for breakfast or with a side salad for lunch. Delish!
Ingredients:
6 eggs
3/4 cup freshly grated parmesan cheese, divided
2 Tablespoons half & half
1/4 teaspoon freshly grated lemon zest
1 teaspoon kosher salt
Freshly ground black pepper, to taste
1/4 teaspoon Penzy's "Sunny Paris" seasoning, or dried Italian herbs
1 Tablespoon extra virgin olive oil
1 Tablespoon butter
1/4 cup onion, diced
10 small fresh asparagus stalks, trimmed and cut into 1/2-inch pieces
6 slices raw smoked bacon, chopped
Directions:
Position oven rack in the upper part of the oven and preheat broiler.
Whisk eggs and 1/2 cup cheese, half & half, lemon zest, salt, pepper, and Italian seasoning together in a bowl.
Heat olive oil and butter in an 8-inch nonstick skillet over medium heat.
Add onion, asparagus and bacon, and cook until asparagus is crisp-tender, about 5 minutes.
Reduce heat to low, pour egg mixture into the skillet, stirring gently to distribute the fillings evenly.
Cover, and cook until the bottom sets, but does not get too brown, about 9 minutes.
Remove cover, scatter remaining 1/4 cup of cheese over the surface.
Place fritatta under the broiler until top sets and browns slightly, about 1-2 minute.
Set aside 5 minutes before un-molding.
Slip the fritatta out of the pan onto a cutting board, cut into wedges.
Serve warm or room temperature.

Related Recipes