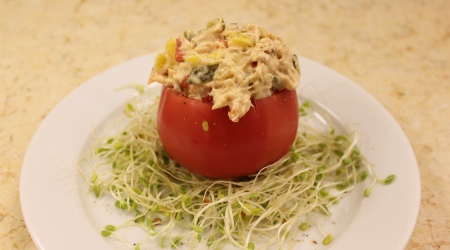 This KP original lunch recipe is gorgeous, healthy, tasty, and easy to make. What more can you ask for? Use the freshest tomatoes you can find for the biggest flavor punch.
Ingredients:
1/3 cup mayo
1 Tablespoon Dijon mustard
Splash of pickle juice
Dash of Tabasco Sauce
1/4 teaspoon dried dill
2 cans tuna, packed in water, drained
5 small dill pickles, chopped
1/2 cup mild pepperoncini rings, chopped
1/2 cup roasted red peppers, chopped
1/4 cup sweet onion, chopped
Kosher salt and freshly ground black pepper, to taste
4 medium red ripe tomatoes, fresh and firm
Sprouts, arugula, or spinach leaves for serving
Directions:
In a large bowl, whisk together first 5 ingredients (mayo thru dill).
Fold in tuna, pickles, pepperoncinis, red peppers, and onion.
Season with salt and pepper to taste. Set aside.
Cut tops off tomatoes, and with a spoon, scoop out and discard seeds and ribs to form a hollow shell.
Evenly scoop tuna salad into each tomato shell.
Serve on a plate of sprouts, arugula, or fresh spinach leaves.
Season with additional salt and pepper, if ya like. Dig in!

Related Recipes