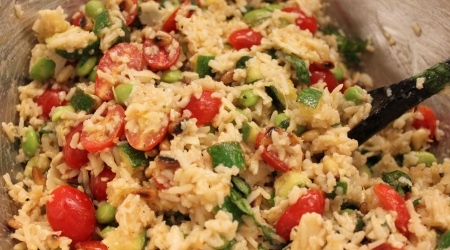 Try this scrumptious side dish at your next summer BBQ! It's light, healthy, and full of fresh ingredients. It's also easy to make and tastes great at room temp or chilled right from the fridge. Another fab recipe from Cooking Light magazine!
Ingredients:
1 1/3 cups cooked brown rice, cooled to room temperature
1 cup frozen shelled edamame, thawed
1 cup grape tomatoes, halved
1/2 cup fresh basil, chopped
1/4 cup pine nuts, toasted
2 teaspoons grated lemon rind
4 Tablespoons fresh lemon juice
1 teaspoon kosher salt
1/4 teaspoon freshly ground black pepper
3 Tablespoons extra virgin olive oil, divided
2 cups fresh zucchini, chopped
1/2 oz. fresh Parmesan cheese, shaved
Directions:
Combine the first 9 ingredients in a large bowl, and toss until well blended.
Heat a medium skillet over medium-high heat. Add 1 Tablespoon olive oil to pan.
Add zucchini and saute 4 minutes, stirring occasionally. Remove from heat and cool slightly.
Add cooled zucchini and remaining 2 Tablespoons olive oil to rice mixture and toss.
Top with shaved Parmesan cheese.

Related Recipes