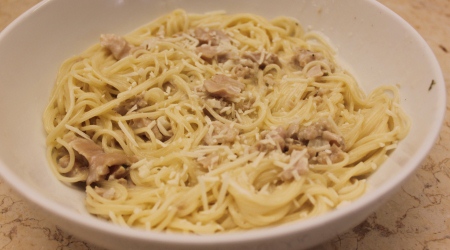 Here's a simple, yet impressive, meal that comes together quickly! Serve with a small tossed salad for a great meal. Definitely company-worthy!!
Ingredients:
2 Tablespoons extra virgin olive oil
2 Tablespoons butter
1/4 cup fresh parsley, chopped
5 cloves fresh garlic, minced
1 Tablespoon dried minced onion
3 (6 oz.) cans chopped clams, drained, reserve juice
1 (8 oz.) bottle clam juice
14 oz. half & half
1/2 cup dry white wine
1 lb. linguine, cooked al dente to package directions
Kosher salt and freshly ground black pepper, to taste
Freshly grated parmesan cheese
Directions:
Heat olive oil and butter in a large saute pan, over medium heat.
Add garlic, minced onion, and parsley to pan and cook 2-3 minutes (do not brown garlic).
To pan, add reserved clam juices, bottle of clam juice, half & half and wine.
Simmer, uncovered until mixture is slightly reduced to thin sauce consistency, about 10 minutes.
Season with salt and pepper to taste.
Add clams and warm through.
Add cooked linguine to pan and toss to coat.
Top with Parmesan cheese and serve.

Related Recipes