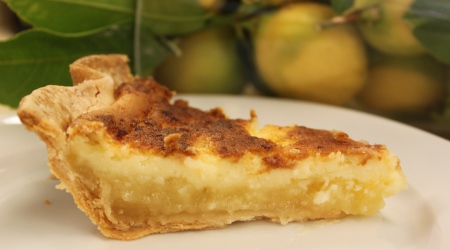 Sometimes a light, sweet, refreshing dessert is just what a meal needs. Serve this amazing pie after a heavy meal and life will be good. Thanks to eatingwell.com for this crowd-pleasing recipe.
Ingredients:
1 package (8 oz.) cream cheese, softened
3/4 cup granulated sugar, divided
3 eggs, divided
1 (9-inch) unbaked pie crust
3/4 cup light corn syrup
1/3 cup fresh lemon juice
2 Tablespoons butter, melted
1 Tablespoon corn starch
2 teaspoons freshly grated lemon peel
Whipped cream for serving
Directions:
Preheat oven to 350 degrees F.
Gently press unbaked pie crust into a pie plate. Set aside.
Beat cream cheese, 1/4 cup sugar and 1 egg with an electric mixer in a small bowl, until smooth.
Spread evenly in bottom of pie crust.
In same bowl, beat 1/4 cup sugar, remaining 2 eggs, corn syrup, lemon juice, butter, corn starch and grated lemon peel until well blended. (Batter will be thin.)
Pour over cream cheese layer.
Sprinkle remaining 1/4 cup sugar evenly over filling.
Bake 45-55 minutes or until filling is puffed and set.
Cool completely on wire rack.
To serve, top with real whipped cream. Refrigerate leftovers.

Related Recipes