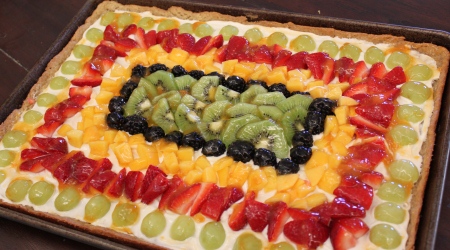 I also like to call this recipe a "mid-west fruit tart", because it's totally a cheat recipe for a French fruit tart! You know, those tiny little cups in the bakery case?? Well this recipe feeds a crowd! And isn't it gorgeous? I brought this impressive and delicious dessert to a summer BBQ and it was a hit with kids and adults alike. My mom used to make fruit pizza when we were kids, so I have very fond memories of this dessert

 A note about the sugar cookie crust–it's easiest to use pre-made cookie dough, however the main brand name is loaded with oils and high fructose corn syrup. I was able to find a healthier brand (though more expensive) at my corner market. You could also make your own dough if you fancy. Also, choose whatever fruit you like best to decorate the tart and have fun making different patterns. Get creative with this!
Ingredients:
2 packages refrigerated, pre-made sugar cookie dough (see not above)
1 package cream cheese, softened
1 jar marshmallow fluff
1 teaspoon pure vanilla extract
3 kiwi fruits, diced
1 cup grapes, halved
3 nectarines, pitted, peeled and diced
1 pint strawberries, quartered
1 cup blackberries
1/4 cup apricot jam
2 Tablespoons water
Directions:
Preheat oven to 350 degrees F.
Roll out both packages of cookie dough onto a cookie sheet. Pinch up sides to form a crust.
Bake according to package directions (about 10 minutes).
Remove from oven, and using a metal spatula, gently loosen up sides of crust.
Cool crust completely at room temperature, about 1 hour.
In a mixer, beat together cream cheese, marshmallow fluff, and vanilla until well combined and creamy.
Spread cream cheese mixture evenly over cooled crust.
Top with diced fruit, either creating a pattern or scattering randomly.
In a small bowl, whisk together apricot jam and water. Heat 1 minute in microwave to thin out and make spreadable.
Using a pastry brush, gently brush apricot mixture over entire fruit pizza.
Cover pizza with plastic wrap and refrigerate at least 1 hour before slicing and serving.

Related Recipes