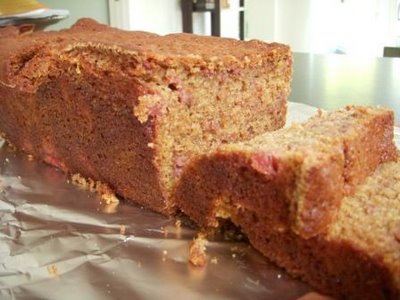 Here's another delicious way to use fresh summer strawberries! I pulled this recipe from the Everyday Food magazine years ago. Similar to banana bread, this sweet treat is best served warm from the oven–try it with a smear of cream cheese. Enjoy!
Ingredients:
5 Tablespoons, plus 1 teaspoon unsalted butter, softened
2 large eggs
1 pint fresh strawberries, rinsed, hulled and quartered
1 3/4 cups all-purpose flour
1 teaspoon baking soda
1/2 teaspoon ground cinnamon
1/4 teaspoon baking powder
1/4 teaspoon salt
1 cup granulated sugar
1/3 cup water
Directions:
Pre-heat oven to 350 degrees F.
Grease 8-by-4-inch loaf pan.
In a small saucepan, mash strawberries with fork. Then bring strawberries to boil over medium heat. Cook, stirring 1 minute. Set aside.
In a medium bowl, whisk together flour, baking soda, cinnamon, baking powder and salt. Set aside.
In a separate bowl, cream together butter and sugar for 3 minutes, until light and fluffy, using electric mixer.
Add eggs to butter mixture and beat well.
Add flour mixture to butter mixture, alternately with water, beginning and ending with flour.
Fold in reserved strawberries (and juice that came from cooking).
Scrape batter into prepared pan, smoothing top.
Bake approximately 1 hour, or until a toothpick inserted into the center comes out clean. (Tent with tin foil after 45 minutes if top appears too dark.)
Cool in pan 10 minutes. To remove from pan, run knife around edges and invert onto cooling rack. Re-invert and cool completely.

Related Recipes