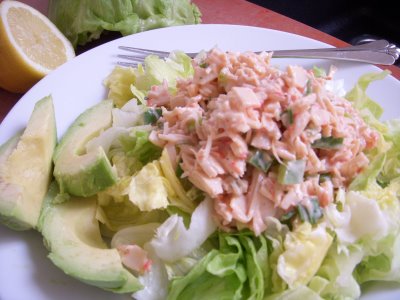 I eat a lot of seafood salads living in San Francisco–one of my favorites is at Sam's Anchor Cafe in Tiburon. Here's my own version that's easy to make at home. Serve it on cold, crisp iceberg lettuce with avocado slices on a hot summer day.
Ingredients:
2 Tablespoons mayo
1 Tablespoon cream cheese
1 Tablespoon Heinz Chili Sauce
1 teaspoon Worcestershire sauce
Juice from half a fresh squeezed lemon (more for serving if ya like!)
1 green onion, chopped
1/2 cup green pepper, chopped
2 cups coarsely chopped imitation crab meat
Dash of Tabasco sauce
Iceberg lettuce and avocado slices for serving
Directions:
Whisk together the mayo, cream cheese, chili sauce, Worcestershire sauce, fresh lemon juice, and Tabasco in a small bowl until well combined and smooth.
Fold in green onion, green pepper, and crab meat.
Cover and chill 1 hour.
Scoop over iceberg lettuce and serve with avocado slices and more fresh lemon juice!

Related Recipes