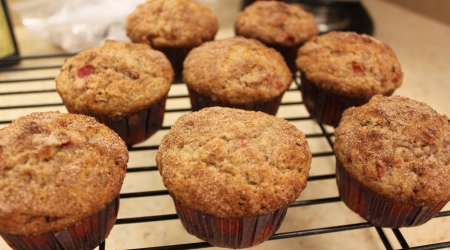 Not sure what to do with rhubarb?? Well then try these amazing muffins for a delightful KP original treat!!
Ingredients:
1 cup all-purpose flour
1 cup whole wheat flour
1 cup granulated sugar, plus 3 Tablespoons
2 1/2 teaspoons baking powder
1 teaspoon ground cinnamon, plus 1/2 teaspoon
1/2 teaspoon baking soda
1/2 teaspoon kosher salt
1 cup plain Greek yogurt
8 Tablespoons butter, melted and cooled slightly
2 eggs
1 teaspoon pure vanilla extract
1 1/2 cups fresh rhubarb, washed and cut into 1/4-inch cubes
1/2 cup pecans, chopped
Directions:
Pre heat oven to 400 degrees F.
Line 15-cup muffin tin with baking cups.
In a large mixing bowl, combine both flours, 1 cup sugar, baking powder, 1 teaspoon cinnamon, baking soda, and salt. Whisk to blend.
In a separate medium bowl, whisk together yogurt, melted butter, eggs, and vanilla until smooth.
Lightly stir yogurt mixture into dry ingredients with a spatula until the batter just comes together–do not overmix.
Gently stir in diced rhubarb and pecans. (The batter will be thick.)
Divide batter among muffin cups, using the back of a spoon or a small spatula to settle the batter into cups.
In a small bowl, combine remaining 3 Tablespoons sugar and remaining 1/2 teaspoon cinnamon and mix well.
Sprinkle a heaping 1/2 teaspoon of cinnamon-sugar mixture over each muffin.
Bake 15-18 minutes, until golden brown and a pick inserted in the center comes out clean.
Transfer to a rack and let muffins cool in the pan for 5 to 10 minutes.

Related Recipes