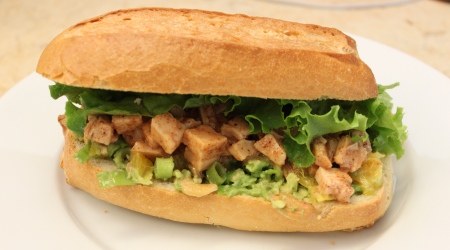 Holy smokes is this a fantastic sandwich!!! I found this recipe while flipping thru my local grocery store magazine, but I must admit, I changed quite a lot to make it a KP original. The ingredients are fresh, sweet, smokey, and come together wonderfully! This recipe makes enough for 2 big sandwiches or 4 small ones. Trust me though, you're gonna want the bigger one!
Ingredients:
1 large fresh orange, halved
1 fresh avocado, peeled, pitted and mashed
2 teaspoons Arizona Dreaming spice mix from Penzey's (can substitute with taco mix or chipotle sauce)
Pinch of Kosher salt
2 Tablespoons plain Greek yogurt
1 1/2 Tablespoon honey
1/4 cup green onions, chopped
1/4 cup cashew halves and pieces
1 1/2 cups shredded rotisserie chicken
1 baguette, halved horizontally
2 cups fresh lettuce
Directions:
Peel half the orange and chop. Reserve other half.
Stir chopped orange into avocado and set aside.
Squeeze remaining juice from remaining orange half into a separate medium bowl.
Stir in Arizona Dreaming spice, salt, yogurt, and honey.
Add chicken, green onions, cashews and toss well to coat.
Spread avocado/orange mixture onto baguette bottom.
Top with chicken and romaine lettuce.
Slice and serve.

Related Recipes